Experience Automotive Innovation with The Mobile Showroom at the Goodwood Festival of Speed
The Goodwood Festival of Speed bore witness to a groundbreaking automotive display as Caterham and Genesis took centre stage in their personalized Mobile Showrooms, leaving visitors awestruck with immersive and unforgettable experiences. 
Thanks to the innovative Mobile Showroom, brought to life in collaboration with EventRent Roadshows, attendees were treated to a glimpse of the future of automotive innovation.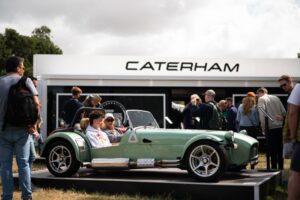 One of the stars of the show was none other than Project V, Caterham's first-ever electric car, boasting cutting-edge lightweight features that set it apart from conventional electric vehicles. Adorned with eye-catching but minimal stickering, this Mobile Showroom was exclusively crafted for the Goodwood Festival of Speed, providing an exclusive platform for Caterham's showcase. 
And now, brands seeking unique and impactful marketing opportunities can take advantage of this roadshow marketing solution through long and short-term rentals!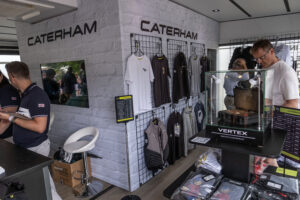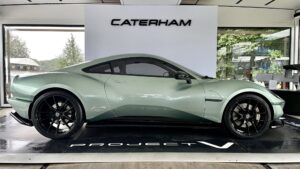 Unleashing the Power of The Mobile Showroom
The Mobile Showroom is more than just a 'vehicle' – it's a revolutionary roadshow solution that brings products and experiences to life in an unparalleled way. Caterham's electric car took on a new life inside the Mobile Showroom, creating an atmosphere that left attendees captivated and inspired.
Immersive Brand Experience
The Mobile Showroom delivers a one-of-a-kind brand experience, allowing customers to interact with products in a dynamic and immersive environment. It becomes a canvas to showcase the brand's story and values, leaving a lasting impression on visitors.
Versatility and Flexibility
The Mobile Showroom's adaptability was evident as it effortlessly transitioned from housing Caterham's innovative electric car to offering its services for any type of event. This flexibility opens up endless possibilities for other brands seeking to make a bold statement and captivate their target audience.
Unmatched Impact 
The Mobile Showroom with Caterham's groundbreaking electric car in one unit and Genesis's latest hybrid car designs in the other created a synergy that elevated the experience for all attendees to new heights. The Goodwood Festival of Speed became the ultimate platform for celebrating cutting-edge automotive achievements, leaving a lasting impact on attendees and industry peers alike.
Reach and Engagement
The Mobile Showroom takes your brand directly to your audience, breaking barriers and increasing engagement. It offers an opportunity to connect with customers on a personal level, creating a deeper emotional connection to the brand and its products.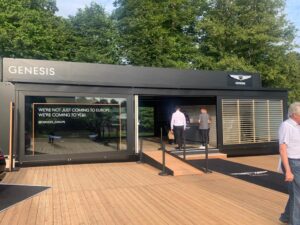 Choose The Mobile Showroom for Your Next Marketing Campaign
As the industry leaders in crafting innovative roadshow solutions, we at EventRent take pride in delivering cutting-edge experiences that leave a mark on the minds of attendees. Whether you want to showcase a revolutionary product, launch a new campaign, or simply create a memorable brand experience, the Mobile Showroom is the key to unlocking the full potential of your vision.
The success of the two Mobile Showrooms, Caterham and Genesis, at the Goodwood Festival of Speed is just one example of the endless possibilities that the Mobile Showroom offers. 
Are you ready to make a lasting impression and redefine brand experiences? Reach out to us today and let us take your brand on an unforgettable journey of innovation and engagement at info@eventrent.nl!