The Canon Roadshow LIVE in Germany!
"MAKE IT ON TOUR" Roadshow with Canon.
Canon's B2B Roadshow this year aimed to showcase their business solutions with the slogan "Experience business solutions from Canon live".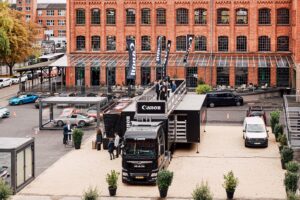 The event offered visitors a chance to experience Canon's latest applications live, including making and evaluating their own printouts on the devices themselves. There is no better way to test a product's capabilities and build trust in it than to try it out yourself. And by bringing their latest solutions directly to their customer's doorstep, it was evident that the Canon B2B Roadshow was the perfect solution for their 2022 marketing strategy. 
Presented in full colour, the events dealt with digital processes in the office and at home, including how they can be more efficient, secure, and sustainable. During the seminar, attendees were encouraged to upgrade their current systems to take full advantage of the latest technology advancements.

The roadshow focused on product demonstrations, personal exchanges of information, and networking.
Visitors particularly appreciated the opportunity to engage directly with Canon's specialists from various departments.
One of the highlights of the roadshow was the wide variety of applications that Canon can print on. The showroom's kitchen was decorated with printed wallpaper, while table tops and stools were also printed to grab everyone's attention. Canon can print almost anything, and this was an excellent opportunity to demonstrate their capabilities.
During the roadshow, not only printers and scanners were tested, but also cameras. The tour began with a map of Germany, and as events went on, photos were taken and printed directly to use as decorations. WATCH THE VIDEO HERE!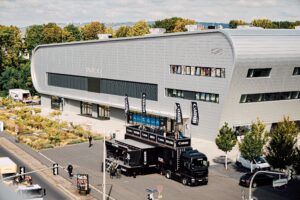 Along with live events, the roadshow included live webinars, making the experience a mix of live and digital. A great way for Canon to showcase their latest products and technologies was the Canon B2B Roadshow, which allowed visitors to interact with the experts from Canon and experience them firsthand!
Looking for the right mobile solution for you and eager to get on the road today? Send us an email at info@eventrent.nl!