EventRent Delights in Tour de France Broadcasting Success with Trusted Clients
The EventRent team is thrilled to be midway through the iconic Tour de France, embarking on this exhilarating adventure once again.
Alongside trusted clients such as RMC, RTBF, Radio France, and NBC, EventRent is going strong, delivering exceptional broadcasting services for this prestigious event.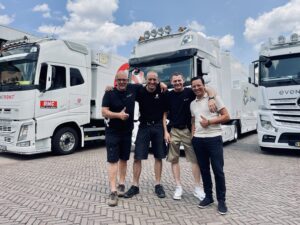 As the race unfolds, EventRent's cutting-edge units, including the Mobile Studio 03, InfoVan, and CityVan, have taken centre stage, enabling our esteemed clients to bring the excitement of the cycling race to viewers around the world through captivating live coverage.
The Mobile Studio 03, a state-of-the-art broadcasting facility on wheels, serves as the heart of the operation. Equipped with the latest technology and staffed by our skilled professionals, this unit ensures seamless production and transmission of captivating race updates, interviews, and expert analysis. Its versatility and mobility allow our clients to capture the essence of the Tour de France from various locations, providing an immersive viewing experience for cycling enthusiasts everywhere.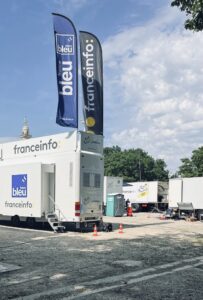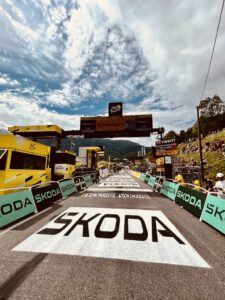 Additionally, our InfoVan and CityVan units play crucial roles in enhancing the live coverage. The InfoVan, a dynamic information hub, offers on-the-ground reporting, delivering real-time updates, and engaging stories from the race route. With its sleek design and advanced communication capabilities, it serves as a go-to resource for fans seeking the latest race news and highlights.
The CityVan, on the other hand, brings the excitement of the Tour de France to urban centres and public spaces. This mobile broadcasting unit sets up in bustling city squares, creating a vibrant atmosphere as fans gather to watch the race on large screens and enjoy a shared experience. The CityVan's ability to capture the enthusiasm of onlookers adds an extra layer of excitement to the event.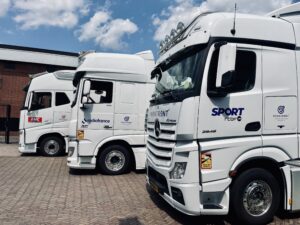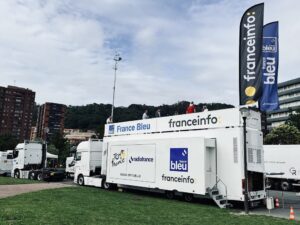 With the Tour de France in full swing, the EventRent team invites everyone to stay tuned for more incredible moments, exhilarating race updates, and exclusive behind-the-scenes coverage. Follow the action and experience the magic of the Tour de France through the lenses of our Mobile Studio 03, InfoVan, and CityVan. This dynamic trio guarantees an unforgettable viewing experience for cycling enthusiasts everywhere. EventRent is a leading provider of state-of-the-art broadcasting solutions, offering a wide range of mobile units and services for live events, sports competitions, and corporate functions. With a commitment to excellence and innovation, EventRent ensures seamless production and broadcasting experiences, enabling clients to engage and captivate audiences worldwide.