"Drive Results" Roadshow Across Europe for Goodyear
The Goodyear Total Mobility Mobile Showroom
Goodyear Total Mobility Solutions hit the road with a fully branded Mobile Showroom, allowing customers to experience the benefits of the solution at their doorstep.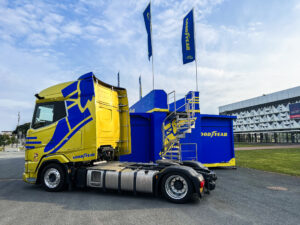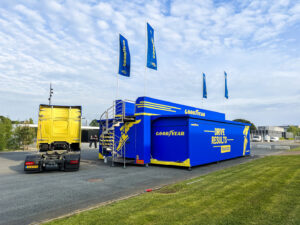 The one-stop-shop concept allows visitors to learn more about Goodyear and what they have to offer. The Goodyear Total Mobility Roadshow supports the brand's goal of being close to customers and focusing on experience.
The Mobile Showroom made pit stops at the European Truck Racing Championships to combine racing excitement with demonstrations of Goodyear tyre solutions. The Mobile Showroom was divided into different areas, each tailored to visitors' specific business needs and focus. The dome is an impressive feature that provides an immersive experience, with customized video displayed on three round screens and incredible sound quality.
One notable solution on display is the CheckPoint demo table, which integrates real components to monitor tyre pressure and tread depth using a drive-over reader. The roadshow showcases key elements of Goodyear products for optimizing fleet efficiency, reducing carbon footprints, and introducing well-connected service networks.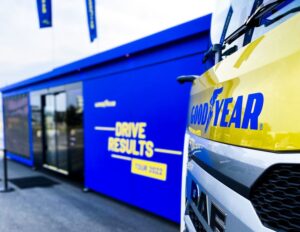 With innovative solutions on display in the Mobile Showroom, it was a surefire marketing strategy that achieved the overall goal of improving vehicle fleet efficiency. This success proved that the use of the Mobile Showroom was an effective way to boost customer engagement and ultimately increase sales.
Goodyear's Mobile Showroom was a great way for customers to experience the benefits of the Goodyear Total Mobility Solution. It also demonstrated the company's commitment to providing the best solutions for their customers.
Are you intrigued by the idea of a roadshow experience for your business? Look no further than EventRent Roadshows, where we are committed to helping you every step of the way to execute the best event marketing solution for your business.
Our team of experts will work with you to create a customized plan for your roadshow tailored to your specific business needs and goals. We provide a range of services, including event planning, logistics, equipment rental, staffing, and more, so you can focus on delivering a memorable experience to your customers.
By partnering with EventRent Roadshows, you can rest assured that your event will be executed flawlessly and professionally. We have years of experience in the industry and a proven track record of success, so you can trust us to deliver results. Contact us today!