Shimano InfoWheels: An Epic Roadshow Experience Redefining E-Bike Marketing
Shimano is revolutionizing their marketing strategy with an epic roadshow experience known as the Shimano InfoWheels.
This fully equipped demonstration vehicle allows them to provide on-location training and information about their e-bike systems. With a mission to actively engage with their dealers, Shimano is embarking on a journey throughout the Netherlands and Belgium to visit specialist trade locations.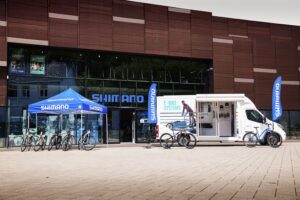 Recently, Shimano and KOGA organized a press event at their Experience Center in Valkenburg, where the impressive custom-designed InfoWheels made its debut. This remarkable vehicle served as the starting point for a cycling tour in Valkenburg and its surroundings, generating excitement and showcasing Shimano's dedication to innovation.
The Shimano InfoWheels serves as a promotional tool for their e-bike systems while offering added value to their OEM partners who assemble electric bicycles with Shimano drives. Their goal is to visit 180 dealers by the end of September, ensuring that store staff receive comprehensive training on the benefits of their systems and the philosophy behind them.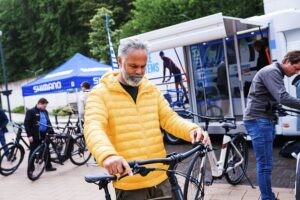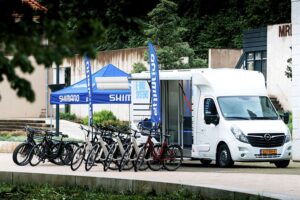 Recognizing the importance of well-informed shop staff, Shimano aims to bridge the knowledge gap on the shop floor by providing compact 45-minute training sessions during their visits. These sessions focus on key points regarding Shimano e-bike systems, followed by test rides on the provided bikes. This hands-on approach allows the staff to experience the quality and performance firsthand, enhancing their ability to effectively sell Shimano e-bike systems to customers.
In addition to dealer visits, Shimano may utilize the InfoWheels at local dealer events, offering support and education to both dealers and consumers. This collaborative effort with various bicycle brands, Dynamo Retail Group, and their own dealer base ensures a comprehensive reach across the Benelux region.
By taking the Shimano InfoWheels on the road, the company aims to provide exceptional support to their retailers, empowering them with knowledge and resources to enhance the resale of Shimano e-bike systems. This innovative roadshow initiative not only strengthens their relationships with dealers but also showcases their commitment to customer satisfaction and the advancement of e-bike technology.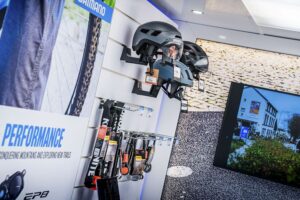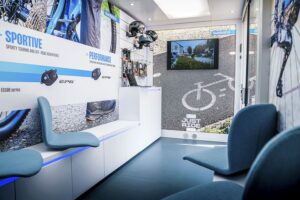 With the Shimano InfoWheels, Shimano is revolutionizing their marketing strategy by bringing their expertise directly to the people, just like the iconic "Veronica is coming to you this summer" campaign. This engaging roadshow experience is a testament to Shimano's dedication to the cycling community and their continuous efforts to evolve and support their partners and customers.