KPN's Striking Colani Truck Continues To Take Centre Stage Throughout the Netherlands in 2023
In a vivid display of innovation and entertainment, KPN's remarkable Colani truck emerged as the star attraction at Europe's most exhilarating gaming festival, GG22 last year. 
The event, which unfolded at the MECC in Maastricht last June and continues to captivate attendees in 2023 in the Netherlands, witnessed the awe-inspiring presence of the Colani truck, making a lasting impression on gaming enthusiasts from far and wide.
Standing tall and exuding an air of vibrant green amidst the sprawling event grounds across the Netherlands, the Colani truck acted as a beacon of excitement and cutting-edge technology. Its distinctive design, crafted with meticulous attention to detail, captured the attention of onlookers, drawing them into an immersive experience like no other.
Within the confines of the Colani truck and InfoVan 30, attendees discovered a realm of gaming marvels. From the thrill of virtual reality to the immersive wonders of augmented reality, the truck housed an impressive array of gaming consoles and controllable racing cars, leaving visitors awe-inspired and craving for more. This impressive showcase of technological prowess truly elevated the gaming experience, allowing participants to lose themselves in a world where boundaries blurred, and imagination thrived.
But the Colani truck offered more than just a visual spectacle.
Seamlessly integrated with the high-speed and free KPN network, it provided an unrivalled gaming environment where connectivity and performance went hand in hand. Attendees revelled in the seamless and super-fast internet access, ensuring that every moment spent inside the truck was one of pure gaming delight.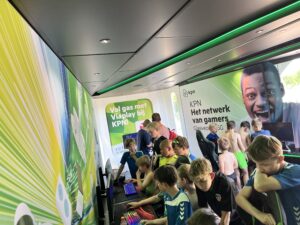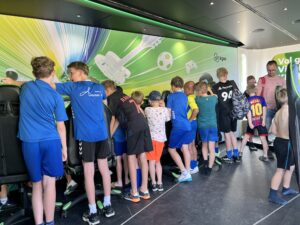 As the KPN Game Tour Roadshow continues to enthral and captivate gaming enthusiasts, the allure of the Colani truck remains irresistible. For those who have yet to experience its magic, now is the time to seize the opportunity and immerse oneself in the captivating world it offers.
Step into the spotlight and discover the remarkable wonders that await within the astounding Colani truck at GG22.
Check out the upcoming KPN Game Tour Dates:
03 Sat 11:00 – 16:00
KPN Event Winkelcentrum de Flora – Deventer
09 Fri 18:30 – 23:00
NSV'46 – De Nationale Voetbaldagen
Gerberastraat 46, 2431 XN Noorden
11 Sun 12:00 – 17:00
V en L – De Nationale Voetbaldagen
Kerkstraat 42, 7396 PH Terwolde
Interested in the Colani Truck? Email us today at info@eventrent.nl!