Revolutionizing Connections: Stiebel Eltron's InnovationTOUR
Stiebel Eltron's InnovationTOUR
Stiebel Eltron embarks on an exciting roadshow.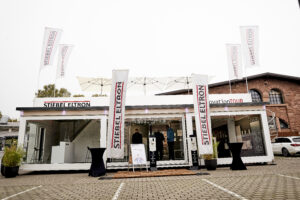 In the face of the pandemic back in 2020, our lives had been reshaped, with digital alternatives becoming the norm for meetings and events. However, amidst this transformation, something vital was lost—the personal connections that make a difference. Recognizing the importance of tangible experiences and face-to-face interactions, Stiebel Eltron took the initiative to introduce their new products directly to customers. And that's where our expertise came into play, as we provided Stiebel Eltron's InnovationTOUR Mobile Showroom with a customized solution tailored to their needs.
Step into a World of Innovation
Within the Mobile Showroom, visitors are guided through four immersive thematic areas: New Construction, Hot Water, Modernization, and Ventilation (or Heating, Cooling, Hot Water, and Ventilation). As guests enter the showroom, a welcoming reception counter provides initial information about the mobile trade fair, setting the stage for the exciting journey ahead. Moving further into the space, the Barco ClickShare allows individuals to project their own mobile phones onto the screen, fostering interactive engagement and shared experiences.
Product Presentations from Every Angle
The central area of the showroom boasts two standalone walls, perfectly suited for product presentations that can be viewed from all four sides. This innovative setup creates a dynamic and captivating environment where Stiebel Eltron's latest solutions are showcased in their full glory. Visitors have the opportunity to explore and interact with the products, gaining a comprehensive understanding of their features and benefits.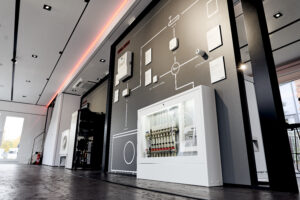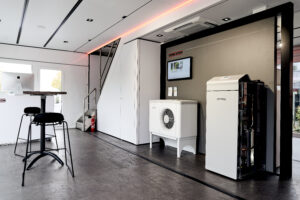 Unparalleled Collaborative Spaces
The meeting area within the Mobile Showroom is equipped with a large screen and an integrated webcam, facilitating video calls or conferences. This dedicated space fosters collaboration and open dialogue, enabling fruitful discussions between Stiebel Eltron's InnovationTOUR experts and customers. However, for those seeking a more intimate and atmospheric setting, the rooftop terrace beckons. Bask in the last rays of sunshine, enjoy a refreshing drink, and engage in informational talks while taking in the panoramic views. It's an experience that combines knowledge with relaxation, leaving a lasting impression.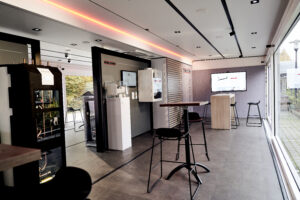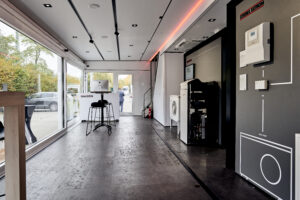 Embarking on an Exciting Journey
The InnovationTOUR knows no boundaries, making stops in various countries such as Germany, Belgium, France, Morocco, Austria, Switzerland, Poland, and more. The Mobile Showroom is strategically positioned at captivating locations, including race tracks, wholesalers, and areas bustling with trade activity. Alongside captivating product presentations, the tour seamlessly integrates other engaging highlights, adding an extra layer of excitement and entertainment. With a diverse range of experiences, the InnovationTOUR promises to captivate and engage all who step inside.
A Future of Efficiency and Excellence
Stiebel Eltron's roadshow is more than just a presentation—it's a testament to their commitment to providing efficient solutions for hot water, heating, ventilation, and cooling. The InnovationTOUR directly reaches their target audience, allowing them to experience firsthand the cutting-edge technologies and sustainable innovations that set Stiebel Eltron apart. With every successful stop on the tour, Stiebel Eltron continues to shape the future of energy efficiency and customer satisfaction.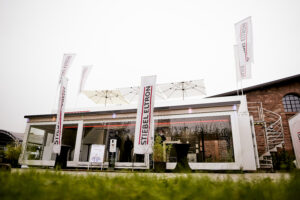 As Stiebel Eltron embarks on this exciting roadshow, presenting their pioneering solutions to a global audience, we wish them continued success. The InnovationTOUR epitomizes their dedication to delivering excellence, fostering meaningful connections, and redefining the boundaries of innovation. It's a journey that merges inspiration, education, and unforgettable experiences, setting a new standard for industry engagement.