The Crew Office #02 travels throughout Italy with the Huawei SmartBus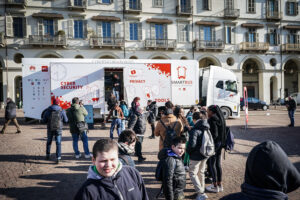 Our partnership with Huawei brought about the inception of the "SmartBus" project, which had the primary objective of giving students free training sessions on cyber security. The project aimed to raise awareness about the potential risks and opportunities associated with the use of digital tools.
Our mobile unit, the Crew Office #02, equipped with digital devices, housed the mobile interactive classroom known as the SmartBus. The Huawei SmartBus travelled to 15 cities across 5 Italian regions and offered training sessions for students. During the training sessions, the students were introduced to a specially developed educational app by Parole O_Stili, which helped tutors create a fun and interactive learning environment.
The project also sought to extend beyond the student community, welcoming all citizens who were interested in enhancing their knowledge of cybersecurity, privacy, and the effective use of digital tools. The SmartBus provided an opportunity for people of all ages to learn and interact with digital devices in a safe environment.
Our collaboration with Huawei ensured that the "SmartBus" project was a resounding success, as it effectively reached over 4,500 students. The project's impact was far-reaching, inspiring more people to take a proactive approach to Internet security and digital literacy.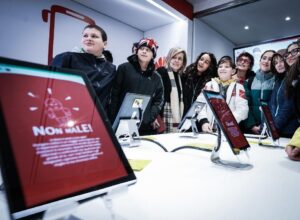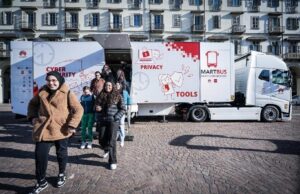 Take a look at the Huawei SmartBus schedule!
6th – 17th of February in the Piedmont region
22nd February – 9th of March in the Lombardia region
14th – 29th of March in the Tuscany region
3rd – 20th of April in the Lazio region
26th of April – 12th of May in the Campania region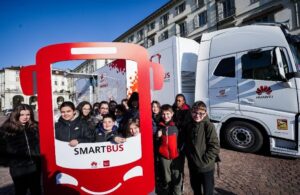 Want more information about the Huawei SmartBus tour in Italy? Click here!
Do you want to bring your initiatives to the forefront and capture your audience's attention? Our mobile solutions can help you achieve your goals and elevate your brand's presence.
With our expertise in roadshow marketing, we can help you identify the right roadshow solution that best suits your needs. Our team will work with you step-by-step, from conceptualizing the roadshow plan to executing the campaign to ensure that it's tailored to your requirements and aligned with your objectives.
We understand that every business has unique goals and requirements, and we can customize our solutions to meet your specific needs. Our mobile solutions provide a flexible, cost-effective, and efficient way to take your initiatives on the road, engage with your target audience, and achieve your goals.
Don't let your initiatives stay in one place. Contact us today, and let's explore how our mobile solutions can help you take your brand to the next level.