embarked on its journey in 2021 and has captivated audiences across Europe ever since.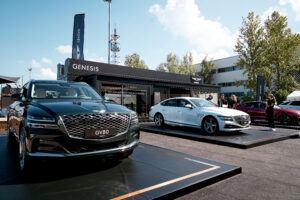 This remarkable roadshow has pushed boundaries and inspired spectators by displaying the latest Genesis cars. From vibrant festivals to upscale events, this Mobile Showroom has traversed various venues, from snowy mount terrains to picturesque golf courses and even graced prestigious chateaus in France. It has also appeared at various trade shows, establishing a strong presence wherever it goes.
The success of this roadshow has surpassed all expectations. Like-minded adults have had the privilege of immersing themselves in the exhilarating world of Genesis, experiencing firsthand the raw power and sophistication of these exceptional vehicles. The Genesis Mobile Lounge has become a platform for forging connections, engaging with potential customers, and creating unforgettable experiences.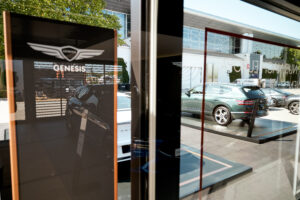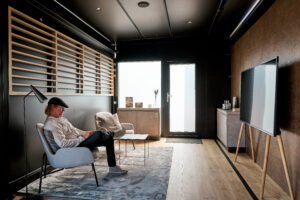 As we venture into 2023, the impact of this roadshow is undeniable.
It has become clear that the power of a roadshow surpasses conventional marketing strategies by directly bringing the brand to the customers. This face-to-face interaction boosts return on investment (ROI), amplifies brand awareness, stimulates sales, and opens up a world of networking possibilities. The Genesis Mobile Lounge has become a dynamic and integral part of Genesis' marketing strategy, transcending the boundaries of traditional advertising and leaving an indelible impression on all who have witnessed its splendour.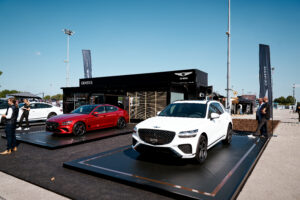 With its sleek design, cutting-edge technology, and captivating displays, the Genesis Mobile Lounge continues to redefine the concept of automotive showcases. Its journey across Europe has become a symbol of innovation, elegance, and the relentless pursuit of excellence. As it navigates new terrains, graces new venues, and captivates new audiences, the Genesis Mobile Lounge epitomizes the essence of Genesis as a brand that pushes boundaries and sets new benchmarks in the automotive industry.
Interested in the Mobile Showroom? Contact us today at info@eventrent.nl!