An unforgettable collaboration amongst the Group.
We are thrilled to announce that as experts in selling and designing exceptional roadshows, we recently organized a highly anticipated one-day event in Eppertshausen, Germany in collaboration with our esteemed partners, ShowTruckMarketing and Rainbow Promotion!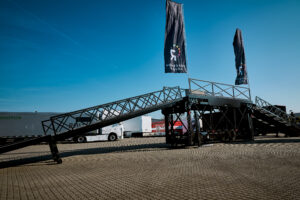 This exclusive occasion provided an incredible opportunity for marketing and roadshow promotion enthusiasts to immerse themselves in a world of captivating experiences.
Attendees were able to witness an impressive display of various promotion units that showcased the breadth of our offerings. From our innovative Smart-Budget solutions, such as the dynamic InfoWheels and the attention-grabbing EggStreamer/XL, to larger-scale and more sophisticated solutions like the versatile Expandable units, the impactful InfoVans, and the luxurious Mobile Showrooms—there was something to suit every brand and promotional need.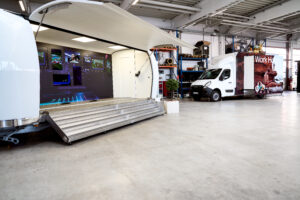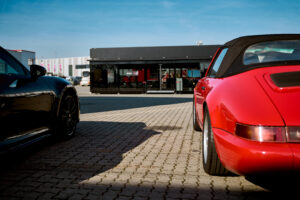 Our event was meticulously set up, ensuring that every detail was perfectly arranged and ready for visitors to explore. The atmosphere was brimming with excitement as guests strolled through the exhibition, marvelling at the thoughtfully designed roadshows and envisioning how they could elevate their own marketing campaigns.
Throughout the day, our knowledgeable team of experts was on hand to provide personalized consultations, sharing valuable insights and expertise on creating impactful mobile event experiences. We engaged in meaningful conversations, discussing the unique requirements of each brand and tailoring our solutions accordingly. Collaboratively, we explored endless possibilities to create unforgettable moments and connect with target audiences in new and captivating ways.
The event served as a testament to our commitment to delivering exceptional roadshows that are both visually stunning and strategically effective. It was an unforgettable gathering of like-minded professionals, all driven by a shared passion for the power of experiential marketing.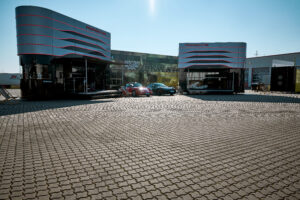 As we reflect on the success of this event, we express our sincere gratitude to our customers and partners who joined us on this journey. We remain dedicated to continuously innovating and pushing the boundaries of what is possible in the realm of roadshow promotions.
Stay tuned for more exciting developments and future opportunities to explore the remarkable world of roadshow marketing with us! Contact us today, and get on the road tomorrow!