Merlo, the renowned Italian manufacturer of construction and agricultural machinery, 
took its presence at the prestigious Bauma trade fair in Munich to new heights last year.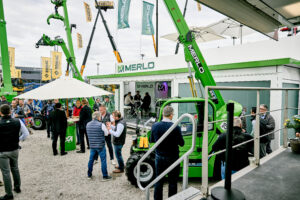 In an effort to revamp their trade fair concept and enhance their brand experience, Merlo has partnered with EventRent Roadshows to incorporate mobile units for the first time.
Gone are the days of complex tent constructions. This year, Merlo is embracing the convenience and efficiency offered by a Mobile Showroom and InfoVan provided. The seamless assembly and user-friendly nature of these mobile units have garnered much excitement and praise from the Merlo team.
With the Mobile Showroom and InfoVan, Merlo gains a versatile and dynamic platform to showcase their innovative machinery. Attendees of the Bauma trade fair had the opportunity to experience firsthand the impressive looks, exceptional handling, and cutting-edge technology that define Merlo's products. The ease of access and mobility provided by these mobile units further amplify the appeal and impact of Merlo's offerings.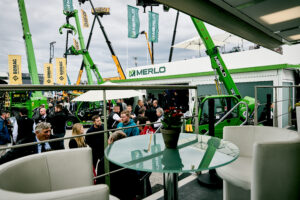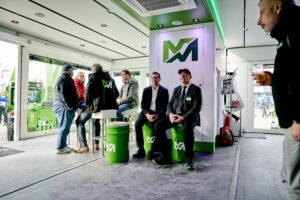 The decision to utilize EventRent's mobile units at Bauma reflects Merlo's commitment to staying at the forefront of industry trends and delivering an unforgettable brand experience.
By embracing a new approach, Merlo aims to captivate visitors, generate interest, and create lasting impressions. The Mobile Showroom and InfoVan serve as powerful tools, enabling Merlo to engage with a wide range of attendees, including industry professionals, potential customers, and enthusiasts alike.
As Merlo showcases their machinery within these mobile units, they are confident that their product range will make a lasting impression. From their striking aesthetics to their exceptional handling capabilities and advanced technological features, Merlo's offerings are set to impress and leave a lasting mark on the Bauma trade fair attendees.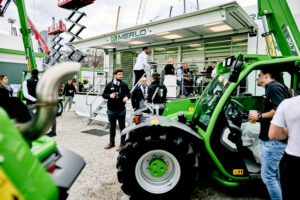 In summary, Merlo's decision to elevate their presence at Bauma by partnering with EventRent and utilizing mobile units marks a significant milestone in their trade fair strategy. The convenience, versatility, and visual impact of the Mobile Showroom and InfoVan enhance the overall brand experience for attendees, allowing Merlo's machinery to shine. With their focus on stunning design, superior handling, and cutting-edge technology, Merlo poised a resounding impact at Bauma and reinforced their position as a leading player in the construction and agricultural machinery industry.
Email us today at info@eventrent.nl and get your own quote!