Since 2019, ifm has been making waves across Europe with its awe-inspiring roadshow,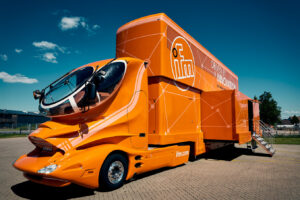 This fully branded truck has been a dynamic presence, making over 100 stops in various cities throughout Europe. Whether it's customer visits, open events, conferences, or even trade fairs, the ifm roadshow leaves a lasting impression.
A Design That Turns Heads
With its unique and striking design, the ifm truck is a true attention-grabber wherever it goes. Its exterior captivates onlookers, making it an immediate focal point at every stop. The bold branding and carefully crafted aesthetics of the truck ensure that ifm's presence is impossible to miss.
A Mobile Exhibition Space
The truck's interior is a testament to innovation and functionality. With two extensions, the exhibition space can be expanded to an impressive 40 square meters. This provides ample room to showcase ifm's extensive product range, allowing customers and visitors to explore the latest technological advancements in automation and sensing solutions. The lower floor is dedicated to product displays, creating an immersive experience that highlights the breadth and depth of ifm's offerings. Meanwhile, the upper floor, spanning 18 square meters, serves as a versatile event room capable of accommodating up to 15 guests for training courses, presentations, or intimate gatherings.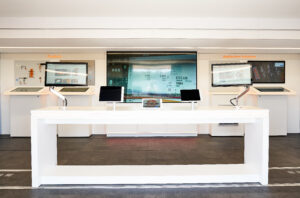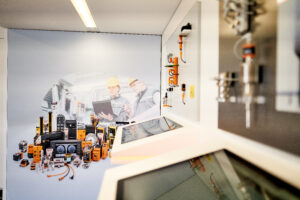 Engaging Experiences on the Move
The ifm roadshow goes beyond simply showcasing products. It aims to create meaningful and interactive experiences for attendees. The exhibition space is thoughtfully designed to facilitate hands-on demonstrations, enabling visitors to experience ifm's innovative solutions firsthand. Knowledgeable experts are on hand to guide guests through the exhibits, answer questions, and provide valuable insights into the application of ifm's technologies across various industries.
Unveiling Possibilities
At each stop on the roadshow, ifm brings its extensive portfolio of sensors, controllers, and systems to life. From cutting-edge industrial automation solutions to advanced condition monitoring technologies, the roadshow allows customers and industry professionals to explore the limitless possibilities that ifm's offerings bring to their businesses. It serves as a platform for collaboration, sparking conversations and inspiring new ideas for optimizing processes, improving efficiency, and driving overall success.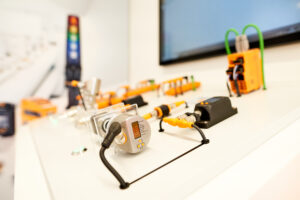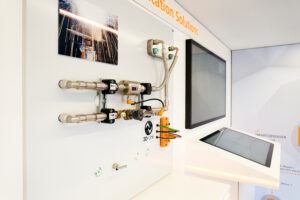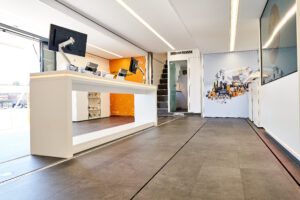 Connecting with Customers
The ifm roadshow is not just about showcasing products—it's about building relationships. It provides an opportunity for face-to-face interactions between ifm's experts and customers, fostering a deeper understanding of their needs and challenges. The roadshow serves as a platform for open dialogue, where customers can seek personalized advice, discuss specific applications, and explore tailored solutions that address their unique requirements.
The ifm Roadshow, with its remarkable Colani and InfoVan 100, has become an indispensable part of the European landscape. This mobile exhibition offers a captivating experience that goes beyond traditional trade shows or customer visits. By bringing ifm's cutting-edge technology, expertise, and personalized engagement directly to customers across Europe, the roadshow reinforces ifm's commitment to innovation, customer-centricity, and building long-lasting partnerships. As it continues its journey, the ifm Roadshow remains a driving force, delivering inspiration, knowledge, and solutions to companies striving for excellence in automation and sensing.
Did the ifm roadshow design catch your eye? Contact us now, and let's get creative.