Sinds 2019 maakt ifm furore in heel Europa met zijn ontzagwekkende roadshow,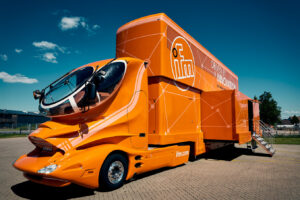 Deze volledig gemerkte vrachtwagen is dynamisch aanwezig en maakte meer dan 100 stops in verschillende steden in Europa. Of het nu gaat om klantenbezoeken, open evenementen, conferenties of zelfs beurzen, de ifm roadshow laat een blijvende indruk achter.
Een design dat opvalt
Met zijn unieke en opvallende design trekt de ifm truck overal de aandacht. De buitenkant trekt de aandacht van de toeschouwers, waardoor hij bij elke halte onmiddellijk in het oog springt. De gedurfde branding en zorgvuldig ontworpen esthetiek van de truck zorgen ervoor dat de aanwezigheid van ifm onmogelijk te missen is.
Een mobiele tentoonstellingsruimte
Het interieur van de truck getuigt van innovatie en functionaliteit. Met twee uitbreidingen kan de expositieruimte worden uitgebreid tot een indrukwekkende 40 vierkante meter. Dit biedt voldoende ruimte om het uitgebreide productassortiment van ifm te presenteren, zodat klanten en bezoekers de nieuwste technologische ontwikkelingen op het gebied van automatisering en sensoren kunnen ontdekken. De onderste verdieping is gewijd aan product displays, het creëren van een meeslepende ervaring die de breedte en diepte van ifm's aanbod benadrukt. De bovenste verdieping, met een oppervlakte van 18 vierkante meter, dient als veelzijdige evenementenruimte die plaats biedt aan maximaal 15 gasten voor trainingen, presentaties of intieme bijeenkomsten.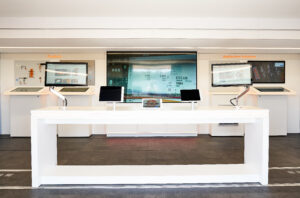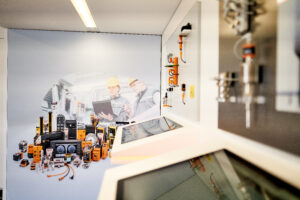 Boeiende ervaringen onderweg
De ifm roadshow gaat verder dan alleen het tonen van producten. Het doel is om zinvolle en interactieve ervaringen te creëren voor de deelnemers. De tentoonstellingsruimte is zorgvuldig ontworpen om praktische demonstraties mogelijk te maken, zodat bezoekers de innovatieve oplossingen van ifm uit de eerste hand kunnen ervaren. Deskundige experts staan klaar om gasten door de tentoonstellingen te leiden, vragen te beantwoorden en waardevolle inzichten te geven in de toepassing van ifm's technologieën in verschillende industrieën.
Mogelijkheden onthullen
Bij elke stop op de roadshow brengt ifm haar uitgebreide portfolio van sensoren, controllers en systemen tot leven. Van baanbrekende industriële automatiseringsoplossingen tot geavanceerde condition monitoring technologieën, de roadshow geeft klanten en industrie professionals de mogelijkheid om de grenzeloze mogelijkheden van ifm's aanbod te verkennen. Het dient als een platform voor samenwerking, het stimuleren van gesprekken en het inspireren van nieuwe ideeën voor het optimaliseren van processen, het verbeteren van de efficiëntie en het stimuleren van algemeen succes.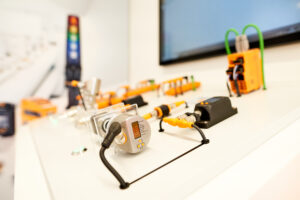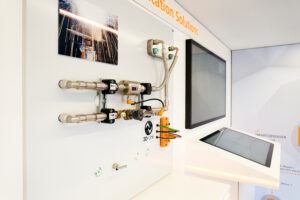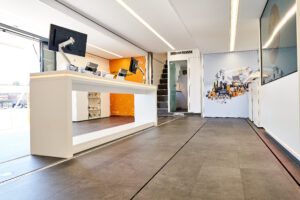 Contact maken met klanten
De ifm roadshow draait niet alleen om het tonen van producten, maar ook om het opbouwen van relaties. Het biedt een gelegenheid voor face-to-face interactie tussen ifm's experts en klanten, waardoor een dieper begrip van hun behoeften en uitdagingen ontstaat. De roadshow dient als een platform voor open dialoog, waar klanten persoonlijk advies kunnen inwinnen, specifieke toepassingen kunnen bespreken en oplossingen op maat kunnen verkennen die aan hun unieke eisen voldoen.
De ifm Roadshow, met zijn opmerkelijke Colani en InfoVan 100, is een onmisbaar onderdeel geworden van het Europese landschap. Deze mobiele tentoonstelling biedt een boeiende ervaring die verder gaat dan traditionele beurzen of klantenbezoeken. Door ifm's cutting-edge technologie, expertise, en persoonlijke betrokkenheid direct naar klanten in heel Europa te brengen, versterkt de roadshow ifm's inzet voor innovatie, klantgerichtheid, en het opbouwen van duurzame partnerschappen. Als het zijn reis voortzet, blijft de ifm Roadshow een drijvende kracht, het leveren van inspiratie, kennis en oplossingen voor bedrijven die streven naar uitmuntendheid in automatisering en sensing.
Is het ontwerp van de ifm Roadshow u opgevallen? Contacteer ons nu, and let's get creative.