Many events and trade fairs were postponed or cancelled due to COVID-19 the past year.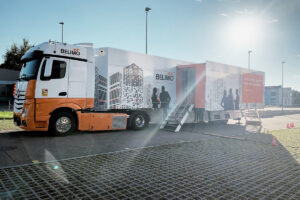 These corporate life rituals, an opportunity for people to make deals, check out the competition, and connect with others, are in a crisis. Therefore, roadshows have become an increasingly desirable exhibition alternative for businesses trying to get face-to-face with their customers safely.
Why wait for your big get-together? At EventRent Roadshows we work closely with you and hone in on your vision, customizing the showroom down to the last detail. From a new car model to the latest technology, we believe in creating a lasting impression for everyone involved. By engaging the target audience, we make sure you and your clients have the full brand experience and meet all safety requirements.
Our Mobile Showrooms can be designed, configured, and on the road faster than any standard stationary facility, giving you ample time to prepare for the event with just a short build-up window. In the event of any last-minute relocations, the showroom can be easily re-routed, moving across all European borders.
And let's not forget about some of our smaller-scale solutions. The InfoWheels is an innovative self-drive promotion vehicle, offering you a dynamic and sustainable roadshow on a smaller budget. Whether you want to showcase a new product design or set up a pop-up concept, this approach delivers a mix of high customer impact and versatility. It takes less than five minutes to set up, allowing more time for you and your team to connect with customers!
We accommodate any issue at hand. By providing customized interchangeable interiors, our roadshow solutions are suitable for any industry. Any time, any place. So, what are you waiting for? Get ahead of the game!
Explore the infinite opportunities and use a roadshow as your next high-end marketing solution.
Contact us today!