Step up and join Saucony's exhilarating "Take Courage Tour"
as they hit the road with a fully branded InfoWheels.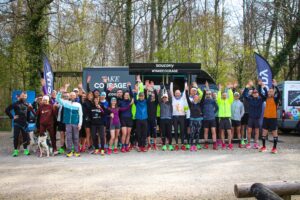 Get ready to immerse yourself in the dynamic Saucony spirit and embark on an inspiring run alongside a vibrant community of like-minded individuals!
At Saucony, they believe that pushing your limits requires courage. Whether you're aiming for your first 5k, striving for a personal best, or simply running for the sheer joy of it, they want to empower you every step of the way. "Together, let's shatter the boundaries and achieve greatness!" And what better way to kick-off this campaign than with a customed-designed InfoWheels?
So, what can you expect on the Take Courage Tour?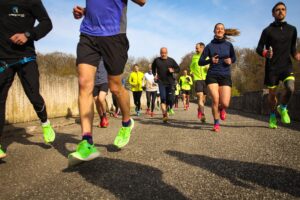 Experience the Latest Saucony Footwear:
Slip into the cutting-edge world of Saucony footwear and feel the difference for yourself. Try on the latest collection and discover the perfect shoe that matches your unique running style. Saucony's team of experts will be on hand to provide personalized advice, ensuring you find the ideal fit for your running journey.
Strike a Pose in the 'Take Courage' Photobooth:
Capture the essence of the Take Courage Tour in the specially curated 'Take Courage' photobooth. Strike a pose, express your strength, and leave with a cherished memento of this incredible event. Share your photos with friends and spread the Saucony spirit far and wide!
Win Saucony Apparel:
Unlock the chance to win exclusive Saucony apparel by participating in the exciting contests and giveaways. It's your opportunity to showcase your dedication and commitment and be rewarded with top-notch Saucony gear that will elevate your running experience.
Post-Run Entertainment and Refreshments:
After pushing your limits on the course, enjoy some well-deserved post-run entertainment and refuel with refreshing treats. Larger events will offer a vibrant atmosphere filled with music, laughter, and camaraderie, making your Saucony experience even more unforgettable.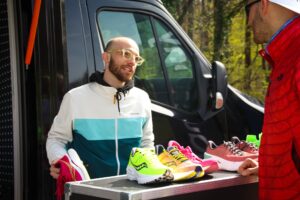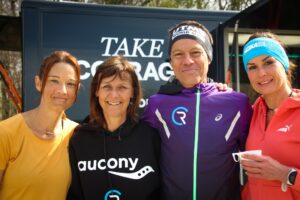 Why did they choose InfoWheels for their marketing campaign? The answer is simple — InfoWheels® provides a smart-driven roadshow solution that enables Saucony to deliver captivating brand experiences to their target audience. With this innovative approach, we put you in the driver's seat of the largest mobile promotion unit that can be operated with a category B driver's license. Prepare to make a lasting impact as Saucony brings their company spirit directly to your doorstep.
Want to join the Saucony Take Courage Tour and let your courage shine through? Click here for live updates and schedule!
Overcome challenges, exceed expectations, and unleash your true potential. Lace-up your running shoes, mark your calendars, and get ready for an extraordinary running experience!