Stap op en neem deel aan Saucony's opwindende "Take Courage Tour".
als ze de weg op gaan met een volledig gemerkte InfoWheels.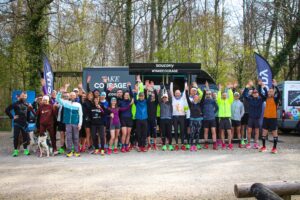 Maak je klaar om je onder te dompelen in de dynamische geest van Saucony en begin aan een inspirerende run samen met een levendige gemeenschap van gelijkgestemden!
Bij Saucony geloven ze dat het verleggen van je grenzen moed vereist. Of je nu je eerste 5 km wilt lopen, een persoonlijke top wilt bereiken of gewoon voor je plezier wilt hardlopen, ze willen je bij elke stap ondersteunen. "Laten we samen grenzen verleggen en grootsheid bereiken!" En wat is een betere manier om deze campagne af te trappen dan met een speciaal ontworpen InfoWheels?
Wat kunt u verwachten tijdens de Saucony Take Courage Tour?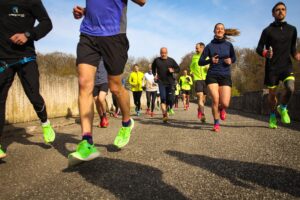 Ervaar de nieuwste schoenen van Saucony:
Stap in de hypermoderne wereld van Saucony schoenen en voel zelf het verschil. Pas de nieuwste collectie en ontdek de perfecte schoen die past bij jouw unieke hardloopstijl. Het team van Saucony-experts staat klaar om persoonlijk advies te geven, zodat je de ideale pasvorm voor jouw hardlooptocht vindt.
Poseer in de 'Take Courage' Photobooth:
Leg de essentie van de Take Courage Tour vast in de speciaal samengestelde 'Take Courage' photobooth. Poseer, toon je kracht en vertrek met een dierbaar aandenken aan dit ongelooflijke evenement. Deel je foto's met vrienden en verspreid de Saucony spirit wijd en zijd!
Win Saucony kleding:
Maak kans op exclusieve Saucony-kleding door deel te nemen aan de spannende wedstrijden en weggeefacties. Het is jouw kans om je toewijding en inzet te laten zien en beloond te worden met hoogwaardige Saucony-kleding die jouw hardloopervaring zal verbeteren.
Entertainment en versnaperingen na de loop:
Nadat je je grenzen hebt verlegd op het parcours, kun je genieten van welverdiend entertainment na de loop en bijtanken met verfrissende lekkernijen. Grotere evenementen bieden een levendige sfeer vol muziek, gelach en kameraadschap, waardoor uw Saucony-ervaring nog onvergetelijker wordt.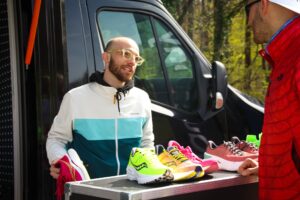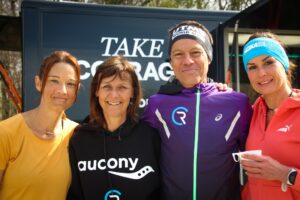 Waarom kozen ze InfoWheels voor hun marketingcampagne? Het antwoord is simpel — InfoWheels® biedt een smart-driven roadshow oplossing waarmee Saucony een pakkende merkervaring kan leveren aan hun doelgroep. Met deze innovatieve aanpak, zetten wij u in de bestuurdersstoel van de grootste mobiele promotie-eenheid die kan worden bediend met een categorie B rijbewijs. Bereid je voor op een blijvende impact als Saucony hun bedrijfsgeest rechtstreeks naar jouw deur brengt.
Wil je meedoen aan de Saucony Take Courage Tour en je moed laten zien? Klik hier voor live updates en het schema!
Overwin uitdagingen, overtref verwachtingen en ontketen je ware potentieel. Trek je hardloopschoenen aan, markeer je agenda en maak je klaar voor een buitengewone hardloopervaring!