The new year is looking bright.
Entering the new year has left EventRent Roadshows energised and excited for what may come next.
This past year, we have reflected on EventRent's nearly 30 years in business. Especially the past two years during the novel coronavirus. And even then, we had no idea of the growth and excitement waiting for us coming into the new year of 2022.
Without a doubt, it has been one of the most challenging periods in our history. But that being said, we took advantage of an uncertain time in the industry to prepare for a post-COVID world. Yet, even then, we established new clientele, ground-breaking projects emerged, and alongside, we have had new and talented employees join our team.
We continue to remain on track to double our workforce. And against all odds, in 2021, with everyone putting in hours of hard work, we built 45 InfoWheels, four new Mobile Showrooms, and two state-of-the-art Mobile Event Units! Standing with over 300 vehicles in our entire fleet, we are undeniably proud to be one of the world's largest and most flexible roadshow unit providers.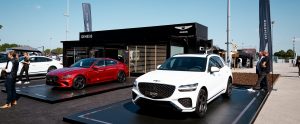 Our Fleet Keeps On Growing
The EventRent fleet hasn't just expanded, but we've conducted a strategic overview of all our vehicles, ensuring that all our units are of the best quality, creating the "quality standard" for all roadshow vehicles. This has allowed us to provide better support to businesses of all sizes. And for many of our clients with smaller companies, the concept of a roadshow is something new. "Uncharted territory".
And by having over 100 units of our InfoWheels, this has helped us guide them into taking their first steps into the roadshow world – a unit where they can not only completely brand their own but can even drive themselves! That kind of creativity and innovation is something that never ceases to astound our clients.
Our team isn't afraid to explore outside the box to find innovative answers – and, more importantly, to execute them with precision and speed. Simultaneously, many of the larger businesses we partner with have sought to scale up their efforts. As a result, projects across EventRent Roadshows have expanded rapidly. We have worked tirelessly to develop our fleet to meet demand, much like our partnership with Porsche, where we built brand new Mobile Event Units, travelling together throughout Europe all of 2022.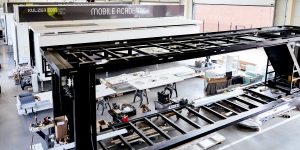 Making Space For Connection
After two years of virtual and hybrid events, EventRent is looking forward to bringing people together. While real progress has been made in returning to physical gatherings, new COVID variants and restrictions are being lifted, making it so that there is light at the end of what we thought was an ever-lengthening tunnel.
2022 is the year that brings hope and opportunities for many companies to get back on track, revisit their marketing campaigns, network, catch up with team members, and, importantly, solidify bonds with their customers. And a roadshow is the ideal way of executing this restart.
We have also made it so that roadshows can be far more environmentally friendly than the standard display booth or big exhibition centre. As a result, companies will be able to utilise a roadshow vehicle and save a significant amount on their CO2 footprint due to less travel – travelling directly to their target audience. In 2021, we built the first-ever 100% Electric InfoWheels to hit the roadshow market, with four additional fully-electric InfoWheels currently in production and ready to go mid-2022.
At EventRent, we aspire to be the most innovative and forward-thinking roadshow marketing agency in the business, especially when it comes to sustainability.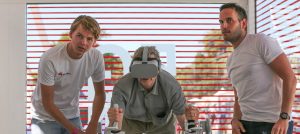 The Future Is Looking Bright
This past year we've provided roadshow vehicles, such as the Mobile Showroom, that has enabled our clients such as Bugatti and Huawei to deliver first-class experiences across Europe.
By taking Bugatti throughout France, they successfully reached their customers in a luxurious environment in St. Tropez, among other locations – a fantastic achievement for the team. And because of the success in 2021, they plan to implement yet another roadshow this year!
And we have our trusted long-term clients such as Huawei, who will be hitting the road with five separate units, for its 5th year all throughout Europe! Our years of dedication to Huawei has been rewarded with the "Huawei Outstanding Collaboration Award". We always aspire to continue to build a bond with our customers, and by doing so, we allow our clients to create a connection with their own customers in the process. Needless to say – that it's your product that draws people in, but it's the experience they walk away with that makes them stay. We will continue to bring this energy along with us in 2022!

On top of our new team members this year, we continue to grow at pace with open vacancies across EventRent Roadshows. So if any of those roles appeal to you, please get in touch!
We have more significant changes in the pipeline, but we'll save that for another day. Stay tuned for updates and follow our adventures on LinkedIn, Facebook, and Instagram!