Het Goodwood Festival of Speed was getuige van een grensverleggende autotentoonstelling toen Caterham en Genesis centraal stonden in hun gepersonaliseerde Mobile Showrooms en bezoekers achterlieten met meeslepende en onvergetelijke ervaringen.
Dankzij de innovatieve Mobile Showroom, die tot leven werd gebracht in samenwerking met EventRent Roadshows, kregen de aanwezigen een glimp te zien van de toekomst van auto-innovatie.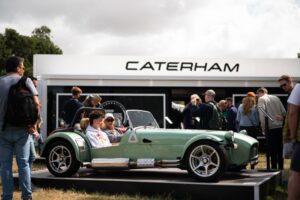 Een van de sterren van de show was niemand minder dan Project V, Caterham's allereerste elektrische auto die zich onderscheidt van conventionele elektrische voertuigen. Deze Mobile Showroom, versierd met opvallende maar minimale bestickering, was exclusief gemaakt voor het Goodwood Festival of Speed en bood een exclusief platform voor Caterhams showcase.
En nu kunnen merken die op zoek zijn naar unieke en impactvolle marketingmogelijkheden profiteren van deze roadshowmarketingoplossing via verhuur voor lange en korte termijn!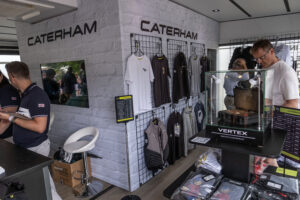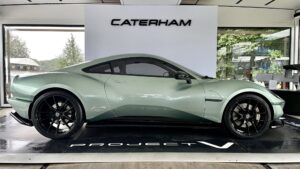 De kracht van de Mobile Showroom
De Mobile Showroom is meer dan alleen een 'voertuig' – het is een revolutionaire roadshow-oplossing die producten en ervaringen op een ongeëvenaarde manier tot leven brengt. De elektrische auto van Caterham kreeg een nieuw leven in de Mobile Showroom en creëerde een sfeer die de bezoekers geboeid en geïnspireerd achterliet.
Indringende Merkervaring
De Mobile Showroom biedt een unieke merkervaring, waarbij klanten kunnen interageren met producten in een dynamische en meeslepende omgeving. Het wordt een canvas om het verhaal en de waarden van het merk te laten zien, wat een blijvende indruk achterlaat bij bezoekers.
Veelzijdigheid en Flexibiliteit
Het aanpassingsvermogen van de Mobile Showroom bleek duidelijk uit de moeiteloze overgang van het huisvesten van de innovatieve elektrische auto van Caterham naar het aanbieden van zijn diensten voor elk type evenement. Deze flexibiliteit opent eindeloze mogelijkheden voor andere merken die een gedurfd statement willen maken en hun doelgroep willen boeien.
Ongeëvenaarde Impact
De Mobile Showroom met de baanbrekende elektrische auto van Caterham in de ene unit en de nieuwste hybride auto's van Genesis in de andere creëerde een synergie die de ervaring voor alle aanwezigen naar nieuwe hoogten tilde. Het Goodwood Festival of Speed werd het ultieme platform voor het vieren van baanbrekende prestaties in de auto-industrie en liet een blijvende impact achter op zowel deelnemers als branchegenoten.
Bereik en Betrokkenheid
De Mobile Showroom brengt je merk direct naar je publiek, doorbreekt barrières en vergroot de betrokkenheid. Het biedt de mogelijkheid om op een persoonlijk niveau contact te maken met klanten, waardoor er een diepere emotionele band ontstaat met het merk en de producten.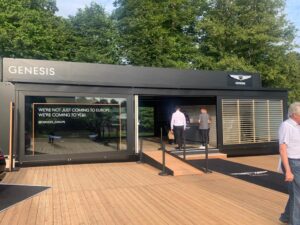 Kies de Mobile Showroom Voor uw Volgende Marketingcampagne
Als marktleiders op het gebied van innovatieve roadshowoplossingen zijn wij bij EventRent trots op onze geavanceerde ervaringen die een stempel drukken op de gedachten van de deelnemers. Of u nu een revolutionair product wilt presenteren, een nieuwe campagne wilt lanceren of gewoon een gedenkwaardige merkervaring wilt creëren, de Mobile Showroom is de sleutel tot het ontsluiten van het volledige potentieel van uw visie.
Het succes van de twee Mobile Showrooms, Caterham en Genesis, op het Goodwood Festival of Speed is slechts één voorbeeld van de eindeloze mogelijkheden die de Mobile Showroom biedt.
Ben je klaar om een blijvende indruk te maken en merkervaringen te herdefiniëren? Neem vandaag nog contact met ons op en laat ons uw merk meenemen op een onvergetelijke reis van innovatie en betrokkenheid op info@eventrent.nl!