Render vs Reality: Mastering the Image of Design
Renders vs Reality brengen is een kwaliteitsnorm geworden voor ons team bij EventRent.
Onze roadshow renderings brengen de visie van uw bedrijf over met een scherp oog voor detail.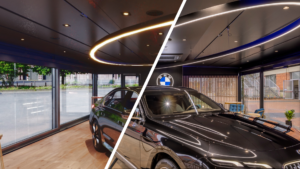 Om dit te bereiken streven we naar de perfecte balans tussen artistieke en technische vaardigheden. Render vs Reality. Wij maken elke render zorgvuldig om ervoor te zorgen dat de elementen nauwkeurig worden weergegeven en de materialen goed worden gekozen. Met onze aandacht voor detail zijn we in staat om renderingen te maken die de gebouwde werkelijkheid nauwkeurig weergeven. Hierdoor kan ons team een gedeelde visie met onze klanten creëren en garanderen dat het eindresultaat is wat zij voor ogen hadden. Het is onze overtuiging dat renderings een gevoel van creatieve innovatie geven waardoor de klant een gevoel krijgt van de hele roadshow ervaring voordat de bouw begint. Hierdoor kunnen wij ervoor zorgen dat de ervaring van onze klant ongeëvenaard en gedenkwaardig is; van ontwerp tot bouw zal het eindproduct van de hoogste standaard zijn.
Wij dagen onze ontwerpers uit om uw roadshowervaring te verbeteren en te verrijken door te pleiten voor een ontwerpmethodologie die geworteld is in mensen en presentatie via onze schaal van Roadshow Performance Plus+, een programma waarin wij zien dat de toekomst van experimentele marketing zal bestaan uit het bereiken van meer mensen via live merkervaringen. Het live publiek zal in de nabije toekomst ongetwijfeld afnemen, en deze trend kan zich voortzetten met activaties met een hoge touch-exclusiviteit. Deze activaties kunnen echter tegelijkertijd door miljoenen mensen worden ervaren via digitale versterking voor sociale media. Een roadshow die actuele content voor uw merk genereert.
Render vs Reality: Onze successen blijken uit onze projecten, zoals de nieuwe i7-serie Mobile Showroom van BMW in België en de Huawei SmartBus die door Italië rijdt.
In onze praktijk is renderen een middel om intenties te communiceren, verhalen te vertellen en mogelijkheden voor innovatie in uw roadshow te verkennen. Wij geloven dat onze renders onze klanten een breder inzicht geven in de beschikbare ruimte voor productplaatsing en ontwerp. Met deze successen in gedachten zijn wij ervan overtuigd dat onze renders onze klanten waardevolle visuele inzichten verschaffen. Hierdoor kunnen zij goed geïnformeerde beslissingen nemen over hun project.
Renders zijn ook een creatief marketinginstrument dat kan worden geïmplementeerd in uw social media-strategie. Met renders kunt u visuele content creëren die kan worden gebruikt om gesprekken op gang te brengen en potentiële klanten aan te spreken. Ze stellen u ook in staat om uw komende evenement visueel aantrekkelijk voor te stellen. Dat kan de aandacht trekken en het aantrekkelijker maken voor potentiële klanten.
Door onze schaal van Roadshow Performance Plus+ diensten laten wij de mogelijkheden van live experience marketing zien. Wij inspireren onze klanten door hen via onze renders de mogelijkheden van live experience marketing te laten ervaren. En van render tot werkelijkheid brengen wij uw roadshow ervaring naar het ultieme niveau. Onze Roadshow Performance Plus+ diensten bieden een breed scala aan opties om onze klanten te helpen de perfecte live ervaring te creëren. Wij gebruiken high-end 3D rendering tools om realistische beelden te creëren van hoe de live ervaring eruit kan zien. Vervolgens voorzien wij onze klanten van alle middelen die zij nodig hebben om hun visie in werkelijkheid om te zetten.
In deze render vs werkelijkheid vergelijking hebben we de renderings vergeleken met de ontwerpfoto's. Neem een kijkje!
The Saucony InfoWheels