De Up2Date Roadshow 2023 van Nussbaum
De Up2Date Roadshow van Nussbaum is terug in 2023 met hetzelfde thema als vorig jaar: "Een kijkje achter de schermen"
en zal zijn ronde doen in heel Zwitserland.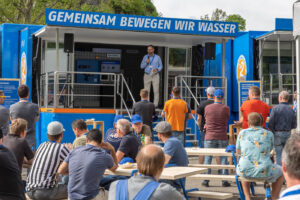 Zij zullen hun passende totaaloplossingen en diensten aanbieden. Nussbaum hecht veel waarde aan persoonlijk klantencontact en ziet de directe uitwisseling als een hoogtepunt, zeker na bijna twee jaar COVID-19 beperkingen. Via een roadshow krijgen ze feedback op hun oplossingen en diensten en krijgen ze waardevolle tips over de huidige uitdagingen en wensen van de sector.
De roadshow richt zich op overkoepelende concepten zoals het Nussbaum 3-stappenmodel van drinkwaterhygiëne, en er worden geschikte complete oplossingen en diensten voorgesteld aan bouwtechnologiepartners. Nussbaum gelooft dat de levenscyclus van een modern gebouw bestaat uit de drie fasen planning, bouw en exploitatie, en zal tijdens de roadshow voor elke fase een passend concept presenteren.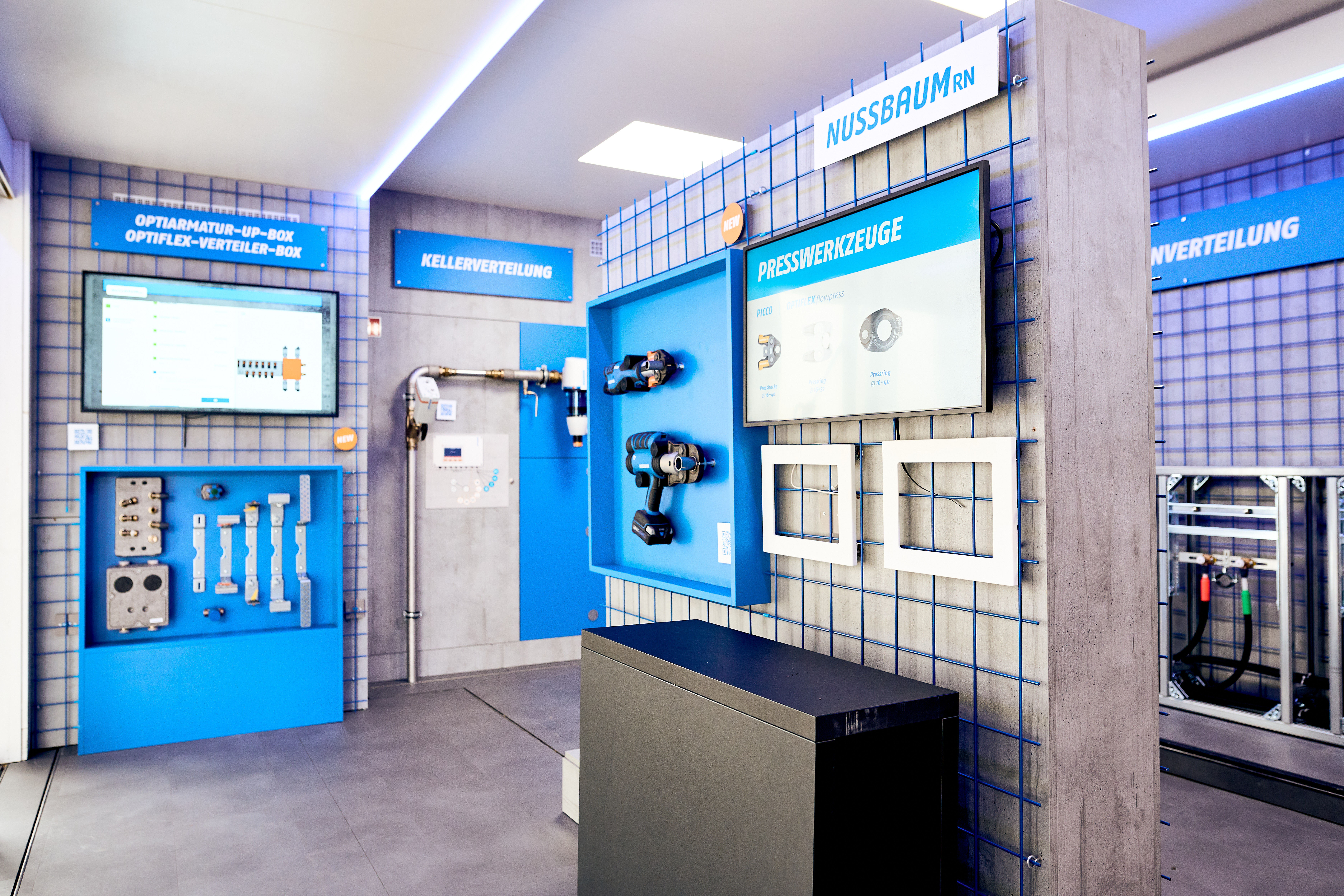 Digitalisering is een voortdurend proces.
Nussbaum wil hun partners laten zien hoe ze voor elk type gebouw een passende oplossing kunnen vinden, of het nu gaat om een conventionele bouwtechnische installatie, een hybride installatie met individuele digitale elementen of een slimme installatie. Ook de tentoonstelling in de showrooms is hybride, met QR-codes op verschillende tentoonstellingswanden. Bezoekers kunnen via een tablet gedetailleerde informatie oproepen, en na korte theoretische blokken kunnen ze hun nieuw verworven kennis meteen testen. De medewerkers van Nussbaum zijn altijd beschikbaar om vragen van bezoekers te beantwoorden, en een training van een half uur geeft een goed onderbouwd overzicht van actuele brancheonderwerpen zoals BIM, drinkwaterhygiëne en digitale transformatie.
Het sociale gedeelte van de roadshow begint met een heerlijke maaltijd, en bezoekers kunnen oude contacten onderhouden en nieuwe leggen. Het concept heeft positieve feedback gekregen van bezoekers, die de roadshow informatief en waardevol vinden om de transformatie van de industrie bij te houden. In het algemeen wil Nussbaum zijn partners een platform bieden om samen vooruitgang te boeken en de veranderingen in de sector bij te houden.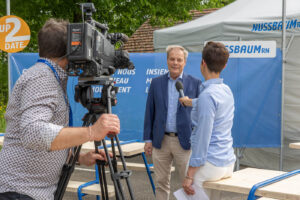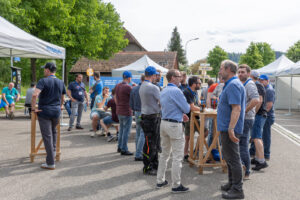 Bent u geïnteresseerd in een roadshow, maar weet u niet hoe u moet beginnen?
Ons team van experts staat klaar om u te helpen! Een roadshow kan een krachtige manier zijn om uw doelgroep te bereiken en buzz rond uw merk of product te genereren. Het houdt in dat u met uw marketingboodschap op pad gaat en meerdere locaties bezoekt, zoals beurzen, conferenties of andere evenementen.
Het plannen en uitvoeren van een succesvolle roadshow kan echter een complex en tijdrovend proces zijn. Dat is waar wij om de hoek komen kijken. Ons ervaren team kan u helpen bij alle aspecten van het organiseren van een roadshow, van het ontwikkelen van de strategie en het selecteren van de juiste locaties tot het creëren van boeiende inhoud en het beheren van de logistiek.
We begrijpen dat elk bedrijf uniek is, dus werken we nauw met u samen om een roadshowplan op te stellen dat past bij uw specifieke doelstellingen en budget. Ons doel is om het proces zo soepel en stressvrij mogelijk te laten verlopen, zodat u zich kunt concentreren op wat u het beste kunt – uw bedrijf laten groeien.
Dus, als u geïnteresseerd bent in het verkennen van het potentieel van een roadshow voor uw marketingcampagne, aarzel dan niet en neem vandaag nog contact met ons op. Laten we bespreken hoe we u kunnen helpen uw merk op de weg te brengen en een blijvende indruk te maken op uw publiek.