Als het festivalseizoen nadert, vult de verwachting de lucht, en daarmee ook de behoefte aan een uitzonderlijke pop-up stand.
Maar vrees niet, want wij hebben de ultieme oplossing die hoofden doet omdraaien en harten doet overslaan: de EggStreamer/XL! Laat ons zijn wonderen ontrafelen en laten zien waarom het het toppunt van perfectie is: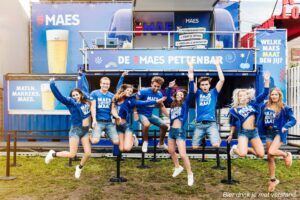 Gemakkelijke mobiliteit:
Stel je voor – het is tijd om je pop-up stand te verplaatsen naar een andere locatie op het festivalterrein. Met de EggStreamer/XL is mobiliteit een fluitje van een cent! Dankzij het slanke en compacte ontwerp kunt u moeiteloos door de menigte navigeren, zodat u uw winkel kunt opzetten waar u maar wilt.
Flexibiliteit:
De EggStreamer/XL staat synoniem voor veelzijdigheid. Zijn aanpasbare karakter komt tegemoet aan al uw wensen, of u nu een betoverende miniwinkel vol met gecureerde schatten presenteert of hem verandert in een heerlijk eet- of drinkstation dat de smaakpapillen prikkelt. De mogelijkheden zijn eindeloos, alleen beperkt door uw verbeelding.
Zelfrijdende oplossing:
Zeg vaarwel tegen de zorgen van het coördineren van vervoer of het vertrouwen op externe middelen. De EggStreamer/XL stelt u in staat om zelf te rijden, zodat u letterlijk op de stoel van de bestuurder gaat zitten! Neem de controle over uw lot terwijl u van het ene naar het andere festival rijdt en bij elke stop een onvergetelijke ervaring beleeft.
Branding op maat:
Uw merk verdient het om te schitteren en een blijvende indruk te maken. Met de EggStreamer/XL wordt branding op maat werkelijkheid. Spuit uw unieke logo, kleuren en visuele elementen op de slanke buitenkant en trek direct de aandacht van voorbijgangers. Laat een onuitwisbare indruk achter in de hoofden van festivalgangers die uw merk associëren met uitmuntendheid en innovatie.
Extra opslagruimte:
Ruimte is vaak een kostbaar goed op festivals, maar geen nood! De EggStreamer/XL heeft u gedekt met zijn slim ontworpen extra opbergvakken. Berg uw benodigdheden op en zorg voor een opgeruimde en georganiseerde ruimte. Van promotiemateriaal tot extra inventaris, wees gerust in de wetenschap dat alles wat u nodig heeft binnen handbereik is.
Met de EggStreamer als uw festivalgenoot zult u zich gegarandeerd onderscheiden van de massa. Omarm de eindeloze mogelijkheden en til uw pop-up stand naar nieuwe hoogten van succes en bewondering. Maak je klaar om festivalgangers te boeien met dit mobiele wonder dat gemak, stijl en ongeëvenaarde functionaliteit combineert.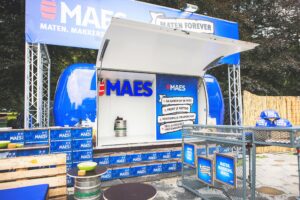 Ben je klaar voor een onvergetelijke reis met de EggStreamer/XL? Het festivalseizoen wacht, en we kunnen niet wachten om de magie te zien die je creëert!
Neem vandaag nog contact met ons op voor uw eigen promo-unit op maat!