Wist u dat het bijwonen van een brand activation en het aan den lijve ondervinden van een product een diepgaande invloed kan hebben op het gedrag van de consument?
Studies tonen aan dat maar liefst 98% van de deelnemers eerder geneigd is een aankoop te doen na een merkactivatie, en een indrukwekkende 70% wordt trouwe klant!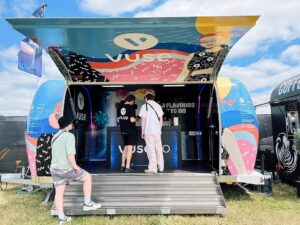 In de zomer van 2022 begonnen onze EggStreamers aan een opwindende reis, op tournee langs de bruisende Unlock Your City Deze ronde trailer, speciaal ontworpen voor de Vuse Go caravans, betoverde festivalgangers met zijn unieke en opvallende ontwerpen, en diende als een artistieke uitdrukking van de transformerende kracht van muziek en hoe het de geest kan verheffen.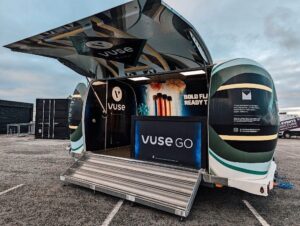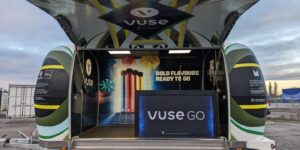 Onze gewaardeerde klanten hebben de vrijheid om te kiezen uit een divers aanbod van pop-up structuren in onze showroom varianten. Of u nu denkt aan een compact, zelfrijdend promotievoertuig zoals de InfoWheels of EggStreamer, of een uitgestrekte Mobile Showroom, van 100m2, wij hebben de perfecte roadshow-oplossing om uw merkactivatie tot leven te brengen. Met voldoende ruimte om uw merk en producten te presenteren, creëren deze meeslepende omgevingen een onvergetelijke ervaring voor uw doelgroep.
Als dit klinkt als de ideale marketingcampagne voor uw merk, laten we dan vandaag nog beginnen met het plannen van uw volgende campagnestrategie. We begrijpen dat het beginnen aan een merkactiveringstraject ontmoedigend kan zijn, maar vrees niet! Wij zijn er om u bij elke stap te begeleiden, met deskundig advies en voortdurende ondersteuning. Van conceptualisering tot uitvoering, ons team is toegewijd om het succes van uw merkactivatie te garanderen, de impact ervan te maximaliseren en een blijvende band met uw publiek te creëren.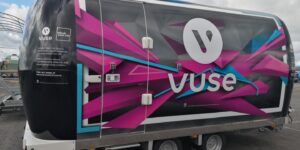 Ontketen het volledige potentieel van uw merk met de EggStreamer. Samen kunnen we een buitengewone merkactivatie-ervaring creëren die aanslaat bij uw doelgroep en uw bedrijf naar nieuwe hoogten stuwt.