Als het aankomt op boeiende live uitzendingen voor sportevenementen, muziekfestivals of exclusieve reportages achter de schermen, staat de Mobile Studio 02 centraal.
Deze innovatieve mobiele eenheid combineert geavanceerde technologie, een veelzijdige opstelling en een speciale technische ruimte om een ongeëvenaarde uitzendervaring te creëren.
De Mobile Studio 02 dient als de perfecte oplossing voor een reeks roadshows, waaronder sportevenementen zoals de Tour de France, live wedstrijden voor voetbalwedstrijden van Manchester City en zelfs als hub voor TBN tijdens het Big Church Festival in het Verenigd Koninkrijk.
Ongekende mobiliteit en flexibiliteit
De Mobile Studio 02 onderscheidt zich door zijn opmerkelijke mobiliteit en aanpassingsvermogen. Uitgerust met geavanceerde uitzendapparatuur kan deze mobiele eenheid moeiteloos de actie volgen bij sportevenementen zoals de Tour de France en live verslaggeving bieden die kijkers midden in de actie plaatst. Of het nu gaat om wielerwedstrijden, voetbalwedstrijden of een ander dynamisch evenement, de Mobile Studio 02 kan moeiteloos bewegen en zorgt ervoor dat elk belangrijk moment wordt vastgelegd en uitgezonden naar een wereldwijd publiek.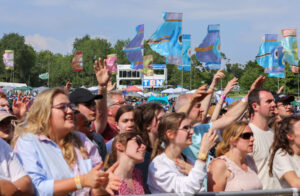 Omroep Excellentie
Met zijn ultramoderne technologie en professionele apparatuur staat de Mobile Studio 02 garant voor uitzendkwaliteit van topniveau. Van high-definition camera's en geavanceerde audiosystemen tot realtime bewerkingsmogelijkheden, deze mobiele eenheid levert een naadloze en meeslepende kijkervaring. Of het nu gaat om het vastleggen van de intensiteit van een voetbalwedstrijd of de opwinding van een muziekfestival, de Mobile Studio 02 zorgt ervoor dat elk detail feilloos wordt vastgelegd en uitgezonden om het publiek over de hele wereld te boeien.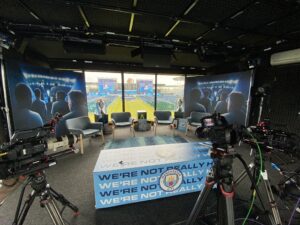 Veelzijdige setup voor hosting
De Mobile Studio 02 heeft een unieke functie: een balkon en live studio. Dit verhoogde platform biedt een ideale ruimte voor presentatoren en commentatoren om live commentaar te leveren en in gesprek te gaan met kijkers. Of het nu gaat om het analyseren van de wielertactiek tijdens de Tour de France, het geven van wedstrijdinzichten bij een voetbalwedstrijd of het interviewen van artiesten op een muziekfestival, het balkon van de Mobile Studio 02 biedt een fascinerend uitkijkpunt en een dynamische achtergrond voor meeslepende uitzendingen en de studio biedt een ruimte waar gasten kunnen gaan zitten, ontspannen en volledig opgaan tijdens een live interview.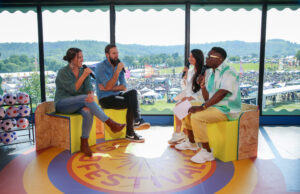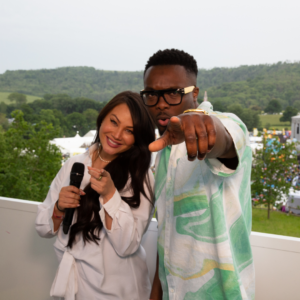 Technische ruimte
Achter elke succesvolle live-uitzending staat een team van technische experts. De Mobile Studio 02 begrijpt dit en heeft een speciale technische ruimte in het ontwerp. Deze ruimte zorgt voor een efficiënt beheer van de uitzendingen en garandeert naadloze overgangen, realtime montage en een soepele coördinatie van meerdere camerafeeds. De technische ruimte dient als zenuwcentrum en stelt omroepen in staat om hoogwaardige en boeiende content te leveren tijdens elke roadshow.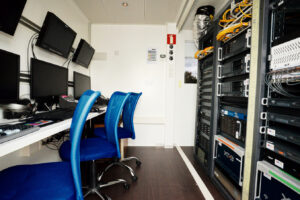 Voor uitmuntende live uitzendingen en ongeëvenaarde flexibiliteit is de Mobile Studio 02 de ultieme oplossing voor roadshows van uiteenlopende aard. Van het volgen van wielrenners in de Tour de France tot het vastleggen van live wedstrijden van Manchester City voetbalwedstrijden of het fungeren als een hub voor TBN op het Big Church Festival, deze mobiele unit biedt een opmerkelijke broadcasting ervaring. Met zijn mobiliteit, uitmuntende uitzendkwaliteiten, veelzijdige opstelling en speciale technische ruimte zorgt de Mobile Studio 02 ervoor dat elk moment wordt vastgelegd, gedeeld en genoten door publiek over de hele wereld.
Omarm deze innovatieve live broadcasting oplossing en breng uw roadshows naar nieuwe hoogten van betrokkenheid en opwinding! Neem vandaag nog contact met ons op via info@eventrent.nl.